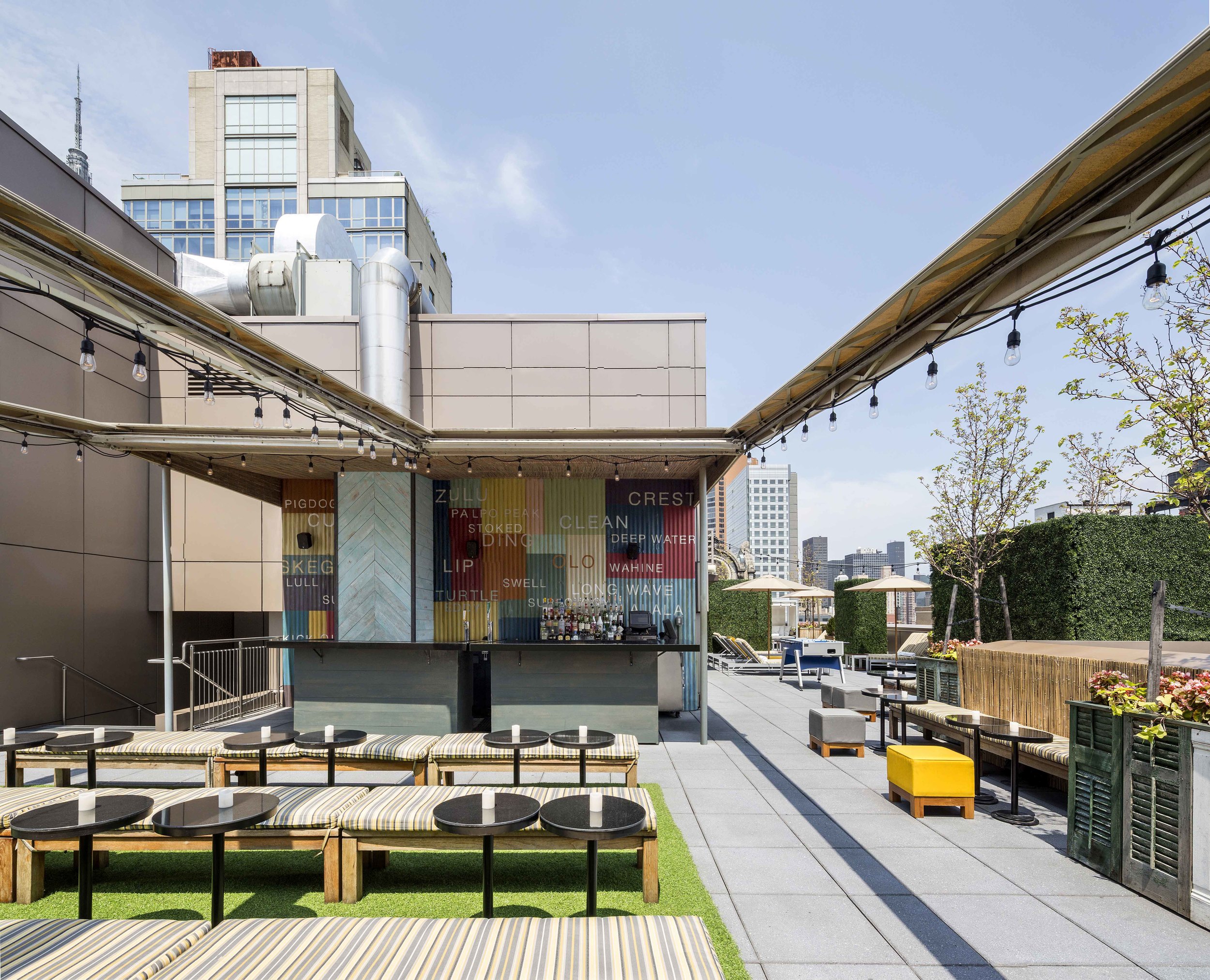 Gansevoort Park Rooftop
New York, NY
www.gansevoorthotelgroup.com/hotels/gansevoort-park-avenue-nyc/nightlife-and-entertainment/gansevoort-park-rooftop/
The Gansevoort Park Rooftop is the pinnacle of high style in the city that never sleeps. The party goes on to the early hours of the morning, as people down on the street are just starting their day. Set 20 stories above Manhattan's skyline, Gansevoort's Rooftop gives spectacular views of the Empire State Building and other notable New York architecture. The space includes destinations for all types of clientele, whether you're ready to lounge by the pool, sip cocktails in the vibrant Pool Bar Lounge, or have an event in the Ivy Lounge.
In the Pool Bar, royal blue leather and chesterfield-style tufted couches bring texture to the space, which is complemented by pops of sunflower yellow. Emphasizing an industrial aesthetic, Kofitsas incorporates custom wood and glass tables and a metal wall draped with greenery to divide the space. Reclaimed wood ceiling beams add a rustic touch, with Edison bulb cord lights casually strung from the ceiling over large hay spreaders with nautical rope. The updates continue outdoors to the swimming pool deck and upper level Sundeck space with reupholstered seating and natural wood elements.
The Ivy Lounge, previously known as the Blue Room, welcomes the most dramatic transformation with the addition of custom-made crank tables complemented by chevron-patterned banquettes with charcoal gray seats and reclaimed wooden ceiling beams. The seating arrangement transforms seamlessly to accommodate a variety of functions, from a casual boardroom meeting and business luncheons, to private cocktail parties and intimate catered dinners. The tri-level penthouse has also been updated for tech users, providing ample charging stations, including USB ports, and free Wi-Fi.